When it comes to live football coverage by Media Prima, one can't help but notice a petite lovely lady doing the pre-match, and post-match interviews live from the stadium.
Her name, as many may have known, is Jasmine Suraya Chin. But get this, she is from Sarawak and has Sarawak at heart when it comes to football, despite the fact that she doesn't show it very often.
// IKUTI KAMI DI INSTAGRAM WWW.INSTAGRAM.COM/SARAWAKCROCS UNTUK BERITA BOLA SEPAK MALAYSIA DAN SARAWAK RINGKAS
>>Dapatkan jersi rasmi Sarawak United 2020 dan SarawakCrocs Tribal jersey kini di TheKedey.com.
Anyway, SarawakCrocs managed to catch up with Jasmine as we handed her the Official SarawakCrocs Tribal Jersey recently, and here's our brief interview with this stunning yet intelligent Kuching girl.


SC: Jasmine, how did you end up as a sports presenter, and how did it feel when you first was asked to be part of 'football'.
JSC: To be honest, it never crossed my mind to be a sports presenter. I grew up watching football from my late dad who used to catch every big games. When the head of the sports department at Media Prima discovered my audition video where I was commentating on a Lin Dan's game, I would say that was the moment I caught my lucky break. He took me under his wings and I slowly learned the game, on and off the field. It was definitely a nerve-wrecking experience for me at first because everything was very technical and I did not think I would last very long. My first time on air, I remembered my legs were shaking despite recording many live events previously for my entertainment talk show – Hip TV. I made mistakes in the first year but I learned a lot, met a lot of people, and traveled a lot. It was a rollercoaster ride for me as everything was new but it was an eye opening experience for me to be a part of the Malaysian League. Definitely would not trade anything for that.


SC: We note that you have covered a few Sarawak FA games in the past, can you tell us about your biggest memory related to Sarawak football?
JSC: Saya hanya mengikuti perkembangan Sarawak more seriously when I became the reporter in 2015. Back then Robert Alberts was the coach. My biggest kenangan for Sarawak FA playing in the Super League was the first game I hosted – JDT vs Sarawak. That was my biggest memory hahahahah. It was my first time hosting the show and Sarawak, my team was playing against the top dog at the time – JDT in Larkin.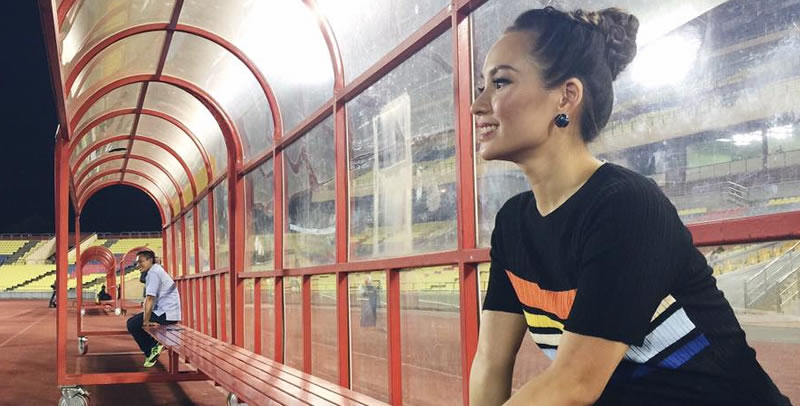 SC: Bila kita sebutkan berkenaan bolasepak Sarawak, ramai yang akan mengimbau kehebatan pasukan tersebut pada zaman 90-an. Bagi Jasmine sendiri, apakah kenangan Jasmine berkenaan zaman emas tersebut?
JSC: Well obviously when we won the FA Cup in 1992! I think because the spirit portrayed by the players, both local and import was truly amazing and we played in our own home ground during the final. I was only three years old at the time but my late dad told me about the match because he watched it and I read so much about it after he passed away. Even if I wasn't present during the match, I could still feel the gegaran Ngap Sayot felt at the time. It was us against urang Malaya. We had great players like John Hunter, David Evans, Jalil Ramli. The fight to reach the final of 1992 wasn't easy as well for the team and Alan Vest, the coach, but we pulled through in won the final.
SC: Can you name a football player from Sarawak that you admire?
JSC: Hehe, Jalil Rambli! However, in the current team, I would say the most prominent for me is Ronny Harun because he is the captain and has made quite a name for himself playing for our national team.


SC: Jasmine sering di lihat di kaca TV mengenakan baju yang cantik sebelum perlawanan, namun buat masa ini jarang dilihat menggunakan jersi pasukan, kenapa?
JSC: Haha, sebab dilarang pakai jersi pasukan untuk mengelakkan daripada dikatakan 'bias'.
SC: What's your hope for the Sarawak football team this season?
JSC: I hope Sarawak will start picking up the momentum soon and stay focus to aim for the Top 5 in the Super League this year. They may be considered as underdogs for now, but let's change that since we are still at the start of the season and instead of aiming for a prevention into relegation, let's aim for at least a Top 5 spot.