KUCHING - The Football Association of Sarawak (FAS) has confirmed that Sarawak FA's  final home match in the Liga Premier this season would see...
Sarawak FA is making it known that they can bow play their home games at night. This comes after the flood lights at Stadium Negeri were...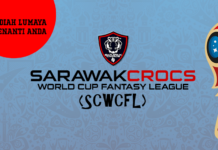 KUCHING - Liga Fantasi Piala Dunia SarawakCrocs (SCWCFL) telahpun berakhir dengan pasukan DesPUDGEito muncul sebagai pasukan teratas. Mengumpul 373 mata, pasukan DesPUDGEito telah mengalahkan 32 pasukan...
KUCHING - Sarawak Sports Minister Datuk Abdul Karim Hamzah has been quoted by newspaper Utusan Borneo as saying that the Football Association of Malaysia...