Dua perlawanan Sarawak FA ditunda ke tarikh baharu yang belum ditetapkan.  Penundaan adalah selaras dengan penundaan beberapa perlawanan Liga Malaysia pada minggu perlawanan tersebut...
Kuching FA's winning momentum was stalled today after they were held by ATM FA at Stadium Mindef this afternoon. The City of Unity tried their...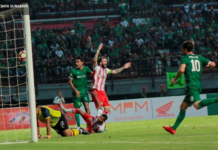 The Crocs held Indonesian counterpart Persebaya Surabaya in an international friendly match today. Newly promoted Persebaya used the game to also launch their...
Laman automotik PaulTan.org hari ini mengesahkan bahawa Persatuan Bolasepak Sarawak (FAS) kini telah memasuki pasaran menjual siri nombor plat kenderaan yang bermula dengan huruf...