The Football Association of Sarawak (FAS) yesterday revealed the list of players that will participate in their selection for Piala President squad.
42 players were shortlisted join the selection starting on 8th to 11th January as you can see in the list below.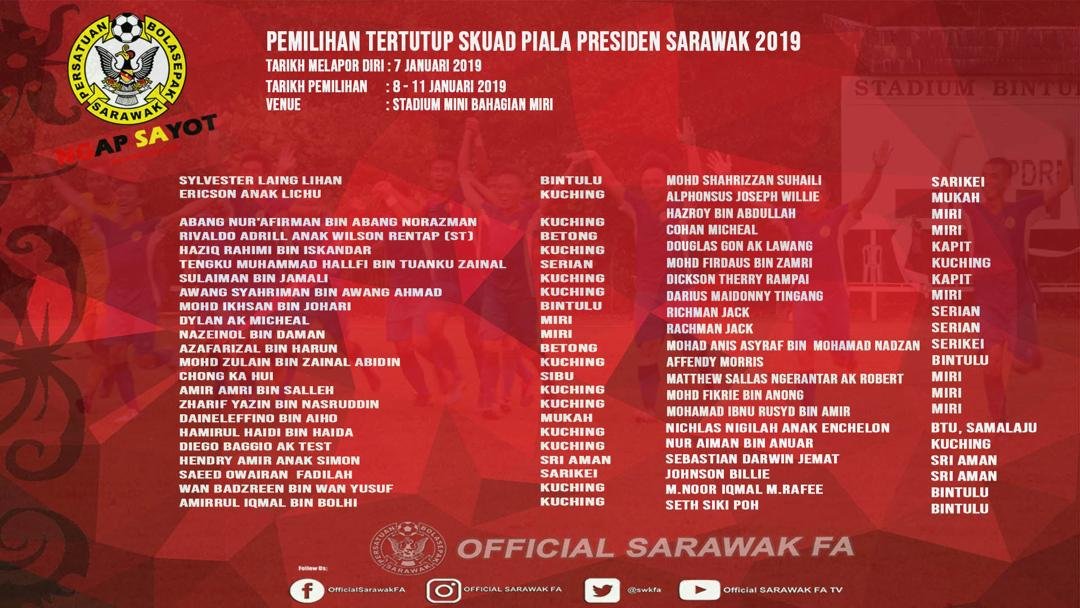 Among the notable names were Rivaldo Adrill, and Diego Baggio as their names are mimicing the legends of football in previous generation.
Also another interesting fact is a pair of twins from Serian whom also caught the eye of head coach, Jalil Ramli.
The twins remind me or former Sarawak FA twins Ramos & Ramles, who are now considered legends by many fans. They were prolific players during their playing years, and maybe the twins of Jack can go down as legends az well.
According to FAS, all these players come from different parts of Sarawak except for Limbang & Kota Samarahan.
Mohd Saif, who is the Piala Presiden Coordinator said that these young guns are the future and they will make up the main lineup in 2021.
With Jalil assisted by Pengiran Bala in Piala Presiden, everyone including myself are hoping the plans would come through.
Until the next article,
Christian Entaban
A passionate local football supporter
DISCLAIMER:
SarawakCrocs is not responsible for views and comments made by readers and followers in relation to this article. The view and comments are owned by the account owner and does not, in any way reflect what we stand for. All liabilities and risk stemming from the comments that are published are the responsibility of the account holder. Thank you.