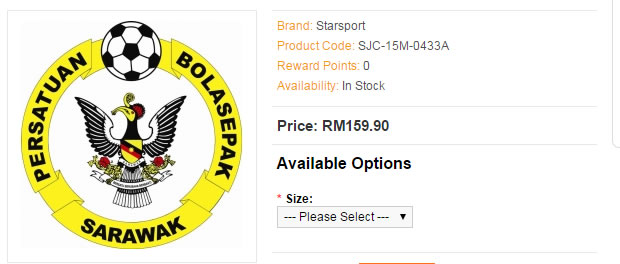 Looks like the secret is out about the new 2015 Sarawak jersy with Lea Sports Centre (LSC) giving confirmed details on the new jersey which is slated to be released this 18 January 2015 at Cityone Mall.
According to their online site, the new jersey, priced at a whopping RM159 for a local brand, will feature the following:
Jersey colour: the classical red and black stripes with the printing of 2D flame
Front logo: "Sarawak Energy", "Juara Cahya", "Marina Parkcity", Starsports, Sarawak FA logo, LSC Logo
Back logo: "Shin Yang" and "Ibraco"
Collar: Round neck with a unique V-shape rib with the word "Sarawak" embroidered at the back of the neck
Material: Cool-Dry and Jacquard Mesh Fabric
Well, we consulted our unprofessional unpaid designer, and he came out with the following graphics which we believe looks 95% as good as the real thing.
While LSC claims that the 2D flames represent "the powerful and winning presence on the pitch", we can't help but feel that the jersey is inspired by the movie 'The Hunger Games' where Katniss Everdeen wears a dress/shirt which produces fire, earning her the name 'The Girl on Fire'.
Other than that, it somehow feel there's lack of creativity in designing the jersey with changes made only to the sleeves and collar, with the addition of the 'flames'.  We feel that the black and red stripes could be further manipulated to give the jersey an improved look.
That said, what do you think of the new jersey?
Do you feel that Sarawak would earn the nickname 'Sarawak, the team on fire?' this season?
Get the original Sarawak Crocs football scarf/mafla for 2015 here.