Keadaan pasukan Liga Premier Sarawak FA semakin parah apabila pihak FMLLP hari ini mengumumkan bahawa Sarawak, bersama enam lagi pasukan yang gagal melengkapkan pendaftaran pasukan, akan didenda sekurang-kurangnya RM500,000.
Menurut kenyataan FMLLP di laman Facebook rasminya, tiga jenis hukuman telah diputuskan pada mesyuarat Lembaga Pengarah Football Malaysia LLP (FMLLP), yakni denda, sekatan perpindahan dan pemotongan mata.
Memandangkan SarawakCrocs khas membawakan berita bolasepak Sarawak, kami juruskan denda terus kepada Sarawak FA, yang mana telah gagal melengkapkan pendaftaran pasukan apabila tarikh akhir berbuat demikian berlalu.
Oleh yang demikian, pasukan Sarawak FA yang bermain di 100PLUS Liga Premier akan dikenakan denda sebanyak RM 500,000, disekat daripada membuat perpindahan pemain, dan akan dipotong 6 mata dari Liga Premier.
Pemotongan mata walaubagaimanapun merupakan hukuman tertangguh yang akan dilaksanakan jika Sarawak FA terbabit melakukan apa-apa kesalahan mengikut Manual Liga Malaysia 2018 dan juga peraturan-peraturan yang telah ditetapkan FMLLP dan Persatuan Bolasepak Malaysia (FAM) bermula dari sekarang sehingga 31 Disember 2018.
Ini bermakna, Sarawak FA sendiri akan menentukan samada mereka akan dipotong mata dari Liga Premier.
FMLLP dalam pada itu membenarkan semua pasukan, termasuk Sarawak FA untuk merayu hukuman yang dikenakan.
Selain Sarawak FA, tiga pasukan Liga Premier lain yang turut gagal melengkapkan dokumen pendaftaran pasukan sehingga 5 Mac 2018 adalah Kelantan FA, Kuantan FA, dan Pulau Pinang FA, yang mana mereka juga akan menerima hukuman sama dengan Sarawak FA.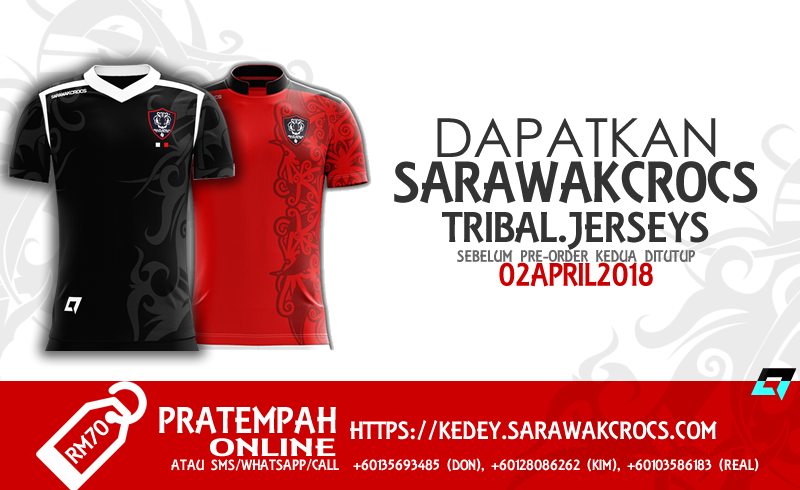 DISCLAIMER:
SarawakCrocs is not responsible for views and comments made by readers and followers in relation to this article. The view and comments are owned by the account owner and does not, in any way reflect what we stand for. All liabilities and risk stemming from the comments that are published are the responsibility of the account holder. Thank you.