Selepas Persatuan Bolasepak Sarawak (FAS) menarik balik kenyataan media bahawa Ketua Jurulatih Sarawak FA direhatkan, hadir pula persoalan samada Ian mengetahui status beliau.
Menurut beberapa komen yang kami perolehi di media sosial, beberapa sumber yang rapat dengan Ian mengkhabarkan bahawa Ian tidak mengetahui beliau telah 'direhatkan'.
Malahan, sumber sama juga memaklumkan bahawa Ian sebenarnya ada memberitahu bahawa beliau menjangkakan beliau akan direhatkan di dalam masa terdekat.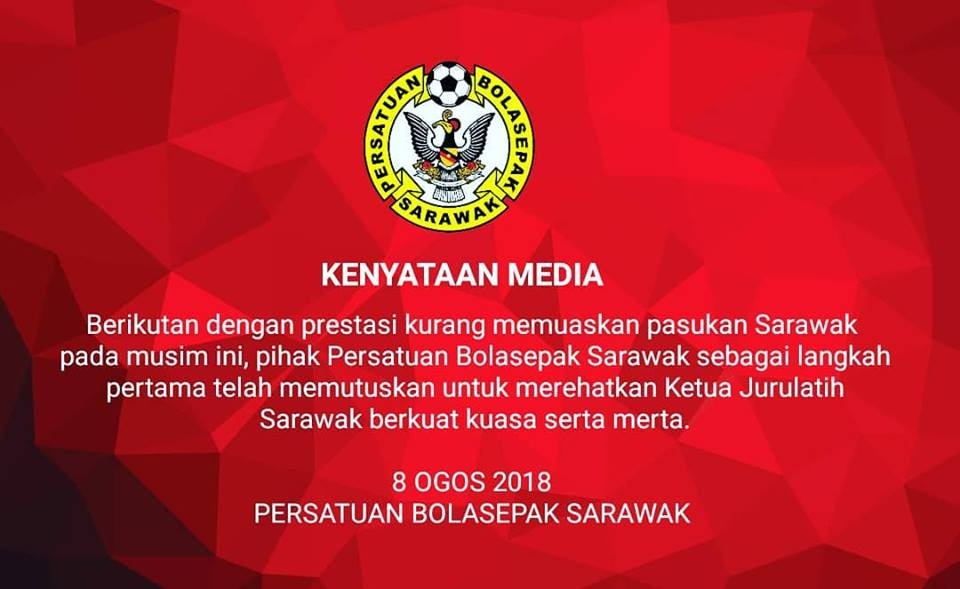 Jika benar Ian tidak mengetahui akan beliau direhatkan sebelum kenyataan tersebut dikeluarkan, kami sememangnya amat kecewa dengan tahap professionalisme FAS.
Di pihak SarawakCrocs pula, kami kini agak keliru kerana FAS bagi kami telah bertindak tidak professional sebagai sebuah badan sukan yang besar di media sosial.
Kenyataan media yang dikeluarkan oleh FAS telah dipadamkan selepas kurang dua jam dikeluarkan dan ini telah dilakukan tanpa apa-apa kenyataan susulan menjelaskan mengapa ia dipadamkan.
Persoalan kini timbul, adakah Ian telah direhatkan?
Adakah FAS menarik balik keputusan merehatkan Ian?
Mengapa FAS tidak bersikap lebih professional di dalam menguruskan media sosial mereka?
Untuk jawapannya, kita semua kena menanti kenyataan rasmi dari FAS. – sarawakcrocs.com/cldn
Facebook Comments
DISCLAIMER:
SarawakCrocs is not responsible for views and comments made by readers and followers in relation to this article. The view and comments are owned by the account owner and does not, in any way reflect what we stand for. All liabilities and risk stemming from the comments that are published are the responsibility of the account holder. Thank you.