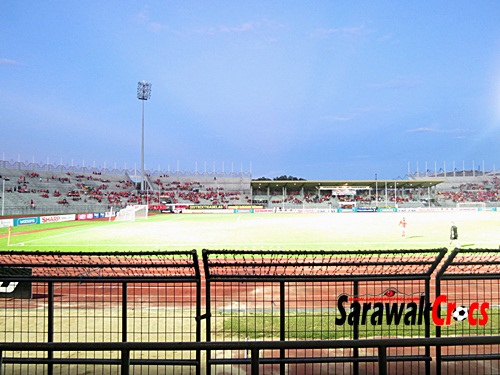 Ticket sales, parking spaces, traffic flow and security are four key aspects Football Association of Sarawak (FAS) are focusing on to ensure that the final Group D match between Sarawak and Perak would go smoothly at Stadium Negri tonight.
FAS secretary-general Abdullah Julaihi advised supporters to purchase their tickets early to avoid congestion at the stadium counters, adding that the police would start to control the traffic to the stadium as early as 3pm today.
He believed that it would be a jam-packed scenario as some parts of the parking space outside the stadium's main entrance had been taken up by the organisers of a carnival, limiting the availability of parking spots.
"However, the parking space at Stadium Sarawak nearby will be opened to public."
According to him, 5,000 out of 18,000 tickets were snapped up yesterday.
"I am confident that the game will be sold out by early tomorrow (today)," he said, adding that tickets could also be purchased at all Lea Centre outlets here.
Abdullah also proposed for a giant screen to be set up outside Stadium Negri for those who missed out on the tickets.
He said security would be tightened inside and outside the stadium to avoid any untoward incident.
He also urged Sarawak supporters not to create any trouble throughout the match.
"It is a crucial match where the Crocs must win to book their Malaysia Cup quarter-final berth.
"To the fans, please behave yourselves," he said.
//The Star