Pasukan Sarawak FA dikhabarkan tidak akan mengambil pemain import baharu pada jendela perpindahan Jun ini. Menurut khabar angin, kekangan kewangan telah memaksa pasukan Sarawak FA...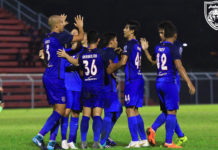 Pasukan Bujang Senang berputih mata di dalam perlawnan ke-13 Liga Premier malam tadi selepas ditewaskan pasukan JDT FC II di Stadium Majlis Perbandaran Pasir...
Sarawak FA fans who want to watch their beloved team play live in the stadium can do so today. An announcement by the Football Association...
Sarawak FA will snap up Nicolas Dul if Football Association of Sarawak (FAS) President, Posa Majais, agrees with his salary request. FAS General Secretary, Jefry...