Kuching FA would soon ink a Memorandum of Understanding (MoU) with Korean football club Suwon FC and JS Foundation, making them the first football...
The Football Association of Sarawak (FAS) has made a formal announcement that the prestigious Piala Sarawak (Sarawak Cup) would be played from 4th November. According...
Persatuan Bolasepak Sarawak (FAS) yakin bahawa ianya akan mendapat lesen kelab bolasepak yang di dambakan selama ini. Menurut laporan akhbar Borneo Post, Setiausaha Agung FAS...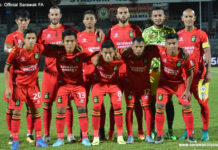 Kenyataan rasmi Persatuan Bolasepak Sarawak (FAS) petang tadi memberi gambaran bahawa pihak FAS kini di landasan yang baik untuk meningkatkan jumlah pemain muda di...