Let's imagine something that happens a bit more often than once in a blue moon: you found yourself a girlfriend who loves football. And here things get even more interesting: you're not a football fan. But you like her so much that it doesn't even matter, and all you want is to be with her. We picked up seven tips that will help you get along with this rare type of a lady.


First of all, when dating a person who's obsessed with football, you have only two options: put an end to his\her obsession or join him\her. Considering that making a girl change her mind (and here we're talking about stopping her from watching every game) is close to impossible, you can share her passion. Or simply find something else to do while she's busy. Here are things you should try when dating a football-loving woman.
1) Ask her about the game
It will be a lot more interesting to watch the game with your girlfriend if you learn more about football and not just its basic rules. Since everyone knows how this game's played, try asking her about players. She'll definitely appreciate your efforts to get closer to her and gladly share everything she knows. Feel free to show the initiative and google her favorite team to and impress her with your knowledge.
2) Football-themed date night
A great way to demonstrate your loved one that you like and respect her preferences (even those, which are not quite typical for girls, like football) is to combine them with date night ideas. The evening you're going to spend together doesn't have to be romantic, just grab a couple of beers and some snacks and find a football-themed movie to watch.
3) Buy her apparel with her favorite team's colors
This tip has one great advantage: there's no one hotter than a girl wearing only a football jersey with nothing under it. If you're going to watch a game together, both of you will have something to look at. The fastest way to find and buy football apparel is to order it on one of the online stores.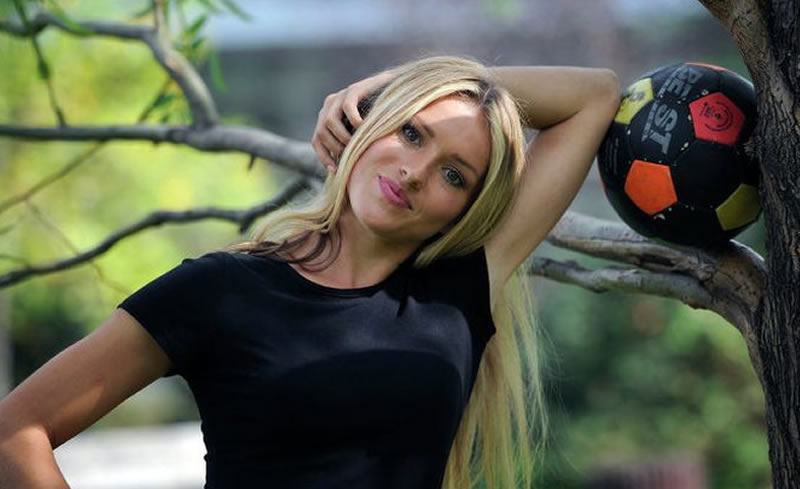 4) Let her enjoy the game alone
If you can't make yourself love football but your girlfriend still likes it, let her watch the game without you, so she doesn't have to worry that you're not enjoying it. You can always call some of your friends and go drinking or maybe even do something about the house for your significant other. The girl will definitely appreciate what you did for her.
5) Buy a ticket to the game
If you live in a major city, getting a couple of tickets to the game shouldn't be a problem. Make it a present, for example, to celebrate her birthday or an anniversary. For a fan, there's nothing better than enjoying football live, surrounded by thousands of fellow-thinkers. Just be sure that at least one of the teams on the field is be her favorite.


6) Try a new hobby
No matter how hard you try to understand her passion for football, you simply may not get into it. In this case, there's no need in pretending. Get a new hobby instead. Think of any kind of activity you always wanted to try, like mastering the guitar or cooking. It's a great opportunity to do so, as you'll have plenty of free time.
7) Show your appreciation if she misses a game for you
For every football fan, man or woman, missing a game means a lot, especially when they have to do it because of someone else. And you need to understand the gesture. Of course, there are more important things to do and much more meaningful gestures. But still, try to show some appreciation to your girlfriend for going on your uncle's birthday instead of watching a game.
These are the main tips that might help you manage the relationship with a football-loving girl. Now, if you meet one in a sports bar or find a pretty football fan on some Russian dating site, you'll know what to do.